Cobra Scaffolding Derby
Your best choice for Commercial Scaffolding throughout Derbyshire, Leicestershire, Nottinghamshire, the East Midlands and the rest of the UK
Cobra Scaffolding Limited is the preferred contractor to many blue chip and large organisations throughout the UK. We also provide the same level of service to many smaller businesses that exclusively use our service. We treat everyone with the same professionalism.
We understand the importance of meeting targets and programmes and liaise weekly, on site, with other trades enabling us to programme ahead. This limits delays and costly adaptations, most importantly, enabling timely completion.
Our aim is to provide a comprehensive service, before, during, and after erection, to guarantee we meet your individual requirements.
Before: Typically this may include consultation, site visit, design and planning, working within budgets, etc. This is then followed by a competitive comprehensive quotation.
During: We deliver and erect our own quality scaffolding to specification, using our own qualified scaffold erectors, with direct supervision from our own in-house management team.
After: We ensure the scaffolding remains secure and safe with regular site inspections. Once the project is completed, we will dismantle the scaffold with the minimum of fuss and under the same stringent safety measures.
Please contact us on 01332 383833 for a FREE, no-obligation quotation. We are fully insured for your peace of mind in all aspects of this work.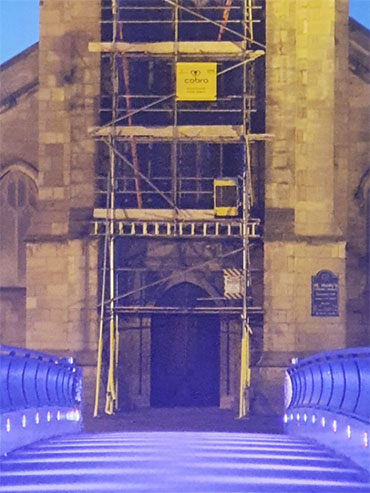 Whatever your project, Cobra Scaffolding Limited guarantees the very highest standards of workmanship and service.
Your safety is our priority; no scaffolding company provides the same absolute commitment to efficient and reliable work, with highly qualified erectors and dismantlers on hand to ensure everything is done right first time.