Cobra Scaffolding Derby
Your best choice for Domestic Scaffolding throughout Derbyshire, Leicestershire, Nottinghamshire, the East Midlands and the rest of the UK
Scaffolding is an essential safety precaution for many domestic building projects, such as house extensions, re-roofing and some loft conversions. Whether you are extending your home, re-pointing your chimney, replacing your guttering, extending your loft or making any other structural home improvements, you need scaffolding as a safety precaution.
We have extensive experience of the unique requirements of scaffolding on domestic premises, both external and internal, and can offer you additional advice on site safety around your home during building works.
Professionally erected scaffolding makes your home safe during your home improvement project - protecting you, your family and the contractors and tradesmen working on your property.
Please contact us on 01332 383833 for a FREE, no-obligation quotation. We are happy to offer our domestic scaffolding service to both the public and local builders.
We can meet all your domestic scaffolding needs - fast service, competitive prices!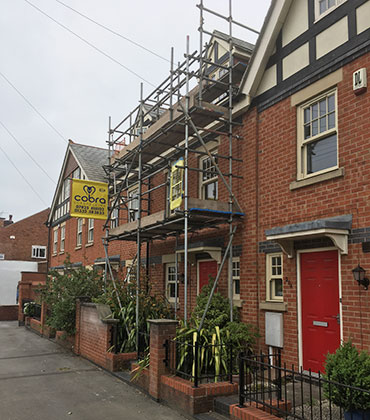 Our scaffolding capabilities include:
Galvanised Tube (to British standard)
Scaffolding Boards (Grade A)
Aluminium Unit Beams
System Scaffolds
Ladders
Various Fittings (to British standard)
We can also arrange the fuss-free supply of hoists, chutes, cradles and alarms